Benefits of Link Building
This article will cover 14 benefits of link-building and how to achieve these benefits from your campaign.
Link building is one of the most popular yet misunderstood aspects of SEO. But all you need is the right approach when implementing a link-building campaign – which is easier said than done.
Countless studies agree that inbound links are one of the most influential ranking factors, assuming that they are high-quality of course.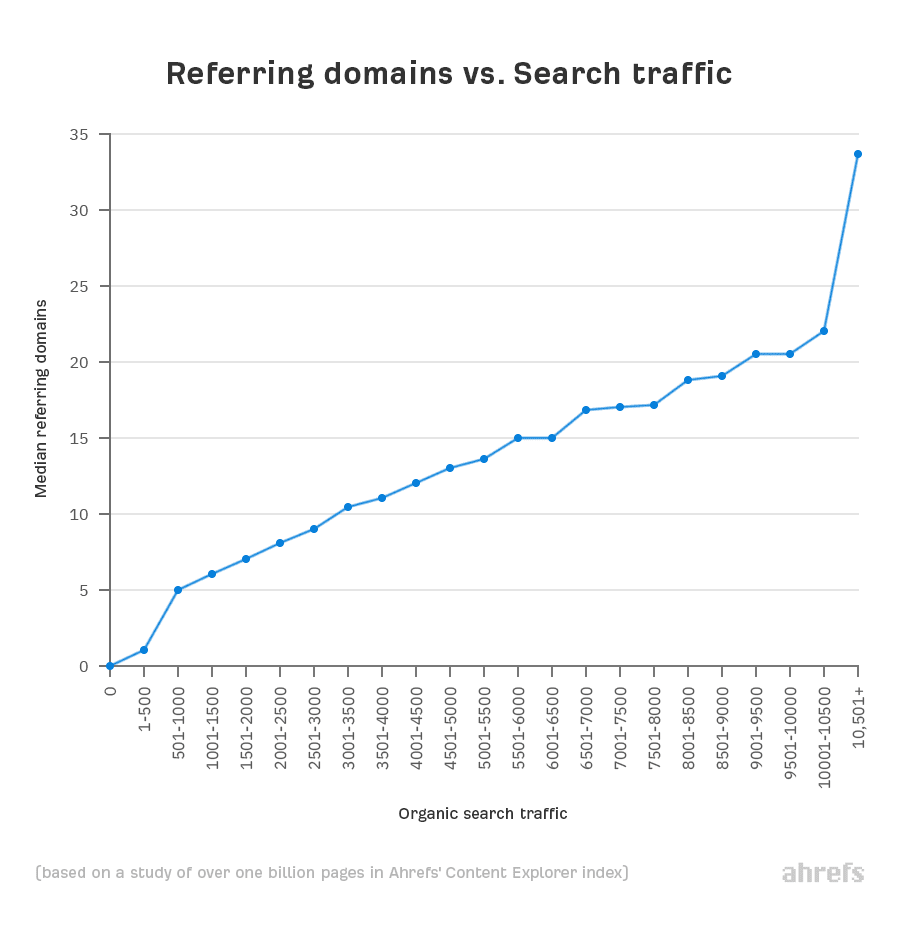 The time for links to impact your site can vary, but around 10 weeks is the consensus to see an SEO impact.
However, the impact of links goes beyond just higher search engine rankings.
51% of digital marketers also mention that they experience additional benefits associated with their link-building strategies within 1-3 months of implementing such tactics.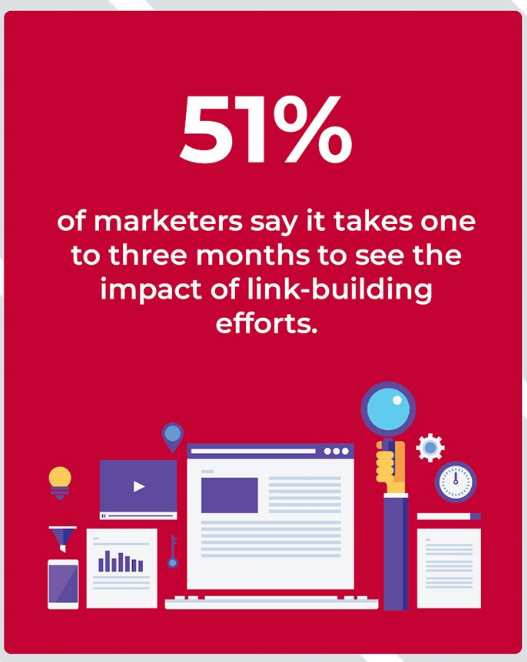 These benefits can include referral traffic, increased brand awareness, and even direct sales, as we will discuss below.
1. Increase Domain Authority
Boosting your website's Domain Authority is one of the most important benefits of link building – even though DA itself is not what impacts your site's ability to rank.
Domain Authority is a search engine ranking score developed by Moz that measures the relevance of a website in a particular industry, niche, or subject matter to predict how likely it is to rank on search engines.
Domain Authority scores range from 0 to 100. The websites that score above 60 have a likelihood of ranking higher. Those that score lesser than 30 will rank lower on search engine results.
So you must ensure that your website has a high score. And the primary factor that increases your Domain Authority is a high number of backlinks from relevant websites with a high Domain Authority.
How?
You get link juice (ranking power) from other websites when they link to your pages. This increases your Domain Authority, which affects your likelihood of ranking high in the SERPs (search engine results pages).
How do you achieve this benefit?
Ensure that you're getting links from other quality sites that have authority of their own.
Now, with that being said – going back to my earlier comment – DA itself is not what Google counts. Other tools offer a measurement similar to DA. Ahrefs for example has a Domain Rating, Semrush has an Authority Score, as do many other tools.
All of these tools attempt to measure the actual authority that your website has built up by earning backlinks. Google's measurement of this is known as Page Rank – which is the actual score impacting your site.
Unfortunately, this isn't publically available as in the past – which leads us to use 3rd party metrics to make an educated guess.
So, don't focus solely on the DA or DR metric, instead emphasize getting quality, relevant links using tactics like resource page outreach or guest posting.
2. Link Building Enhances Brand Visibility
The primary purpose of link building is to rise in the SERPs. But before this is achieved, other complementary brands and websites will need to link to your website.
As they give you backlinks, their audience becomes aware of your content and offerings, which boosts your customer reach.
You become more visible to audiences that you'd probably not be able to reach otherwise.
How do you achieve this benefit?
Target complementary brands for your link-building campaign.
If the audience of the websites you're getting links from doesn't find you relevant, they'll probably ignore your content and never click on your link.
3. Link Building Establishes Brand Authority
The competition in the digital space is tough. And if customers do not see you as an authority in your industry they won't trust you. That said, the easiest way to become an authority is to have other brands that already have a solid following and voice recommend you.
In the online space, recommendations are via brand mentions and backlinks. So when a website cites your content, website, or brand as a valuable source of information in the industry it is a recommendation.
The recommendation tells your target audience and search engines that you are an authority in the industry. Why? Because a respected brand referenced your content or business as valuable.
How do you achieve this benefit of link building?
Get links from respected platforms in your industry.
4. Boost Referral Traffic
Referral traffic is web visits you get from other websites without the visitors searching for you on Google. This kind of traffic tells Google that your content is valuable, especially if such visits are coming from high DA websites.
Let's see a real-world case study to explain.
Bryan Harris penned a post on a website called Okdork at a time his blog Video Fruit received only 285 visits daily.
On the day his guest post went live, his website got 1086 visits. The next day it got 686. Now, 73% of these visits were fresh visitors.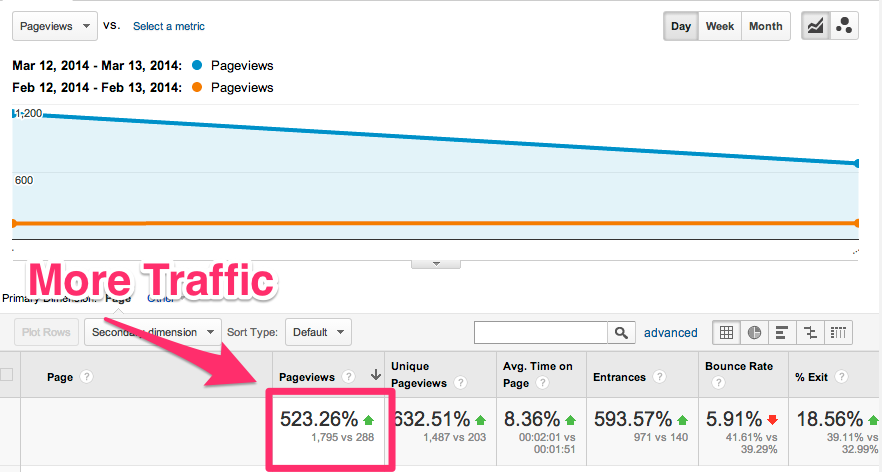 This meant that the readers of Okdork loved his post and decided to go to his blog (by clicking his backlink) to read some more.
That is how link building boosts referral traffic.
How do you achieve this link-building benefit?
Offer your audience more with your links. Let them know that they'll get additional value by clicking through to your blog or website.
5. Build Brand Credibility
Brand credibility means that your readers and target audience trust what you say and offer.
How do link-building strategies help you achieve this? By boosting your rankings on the SERPs.
When a web user searches for a product or service or information in your industry and sees your page as number 1 on Google it passes across a message. The user would feel that since Google finds your content valuable for the number spot, your brand should be credible enough.
Also, if a prospective customer goes through a thought leader's content in your field and discovers your links on their website, they'll view you as an authority as well. This gives them the confidence to check out your website and engage with it.
How do you achieve this benefit?
Go for quality backlinks (links from relevant and high-authority sites).
6. Broadens Revenue Opportunities
Imagine the opportunities 36,733 email subscribers would open up for your revenue.
Gregory Ciotti utilized link building to get 36,733 loyal subscribers to his email list.
He did this by going on a link-building spree via guest posts that included a call to action that engaged readers to interact with more of his content.
When websites link to your pages, you'll have more direct traffic clicking through. This inbound traffic enables you to present various conversion mechanisms to boost revenue.
How do you achieve this benefit?
Place conversion mechanisms on your website to capture incoming traffic.
7. Acquiring Links Helps in Building Relationships in Your Industry
One of the stages of link building is outreach. Outreach happens when you reach out to websites indicating your want for a backlink in exchange for the value you will add to their website or content.
In performing outreach, you will meet various complementary brands that can turn out to be valuable relationships for your business.
The relationships you build for your brand in the process of link building go beyond your campaign.
They can open up a ton of possibilities such as mentorship, the creation of complementary products, new ideas, etc.
8. Passive Income
Earning passive income means you can make money without having to be directly involved in the process of generating it. Building backlinks enables this.
When you have backlinks to your products or services pages from other websites, you receive traffic without having to directly generate it.
As the referral traffic converts you'll receive passive revenue. So in addition to the traffic you receive from other digital marketing efforts, visitors from backlinks can add a powerful boost to your revenue.
How do you achieve this benefit of link building?
Get more backlinks from content targeting buyers if you're looking for sales.
As a simple example, think of listing a coupon on Groupon for your service. People searching for discounts are likely buyers.
9. Boost Organic Rankings
Irrespective of the many updates that Google introduces to its search algorithm, backlinks remain a vital factor in determining your website's position on the SERPs.
Backlinks provide Google with a signal that indicates your content quality and target audience relevance. If your backlink profile is great the signal is that Google should rank your page higher in the results pages – assuming that your content and technical SEO elements are also on point.
How do you achieve this benefit?
Be aware of the kind of backlink you're getting from websites; do-follow or no-follow. No-follow links do not provide link equity to your website even though they send people over. And if a backlink has low link equity it will have less impact on your website search engine rankings. When building links solely to improve rankings, take a close look at the site's organic traffic, Domain Rating, and relevancy to your own.
10. Link Building Helps to Get Your Web Page Indexed Quickly
Getting quality backlinks can help your webpage get indexed quickly. When authority websites link to your page, Google views your page as genuine.
Aside from the "vote of confidence" authority sites generally get crawled more frequently, meaning the likelihood of Google finding and following the link to your site goes up. The more times Google visits your site, the more likely they are to index it – assuming that you have content worth indexing!
How do you achieve this benefit?
Get quality links from authority websites in your niche. The higher the reputation and authority of the other websites better. Making sure you have quality content on your site will increase the likelihood of getting indexed while also maximizing the benefits of link building.
11. Link building Offers Natural Promotion
Unlike other digital marketing strategies like paid social or search, link-building provides natural promotion.
Meaning that link placements do not appear as adverts or paid recommendations to the reader. Why is this important? Web users dislike traditional ads because they're intrusive, interrupt positive experiences, aren't informative, etc. People also don't like the feeling that you're just after their money. They want you to help them in the decision-making process.
Link-building promotes your website but does so by merging with the surrounding content. So your link placements won't disrupt the web user's positive experience but rather enhance it.
How do you achieve this benefit? 
Make sure that your link-building strategy includes natural link placements, that genuinely help the reader.
12. Reduces Bounce Rates
Link-building isn't just about incoming links, it also includes internal links. These are links that send users from one page on your domain to another. They are valuable for 3 main reasons: allowing users and search engines to navigate your site easily, establishing the information hierarchy for your website, and spreading link equity around your website.
For this point, we are focusing on user navigation. Internal links help users seamlessly move through your site without struggling to find what they are looking for.
This results in lower bounce rates. If users can easily find what they're searching for they won't leave your site for another.
How do you achieve this benefit?
Use relevant and descriptive phrases for your anchor text to explain the page the link is targeting adequately.
13. Constant Promotion
Another great benefit of link building is that it provides constant promotion for your website. When you have quality links on many quality websites you will receive the positive effects of the campaign long after acquiring the initial links.
So as long as your link is in place you will continue getting more traffic that converts. If the domain authority of a website with your link on it increases, the PageRank value you get from it will also rise. The result is that the target URL on your site ranks higher.
Some other digital marketing strategies like a paid search campaign would require continuous investment on your part for promotion. Every time you get a click you'll have to pay. But with link building, the positive effects keep rolling in.
14. Boosts Content Value
When a website adds your link to its content it improves the value of the article. This is because the link is included to add more in-depth information to the subject matter. Or like we did at the start of this article; to validate the information provided.
How does this help you?
If they're outbound links they solidify your claims and make your content more trustworthy. And if they're inbound links they make your linked content appear as an authoritative resource that readers can research for deeper information on the subject matter.
Readers' perspectives about the linked resource will spill over to other content on your website, meaning they'll view your site as a resource point.
How do you achieve this benefit?
Ensure that you link valuable content crafted for your target audience.
Outsource!
Is link-building still effective? Absolutely!
But link building is a time-consuming and stressful process. Imagine having to reach out to 100s of link opportunities every month. And having to write the content that each of those opportunities will link to. That's a lot of work.
If you run a business, marketing probably already eats into your time and energy, and you don't want to add more to your workflow.
Plus, as the article already states; your link-building strategies have to be carried out effectively to enjoy the benefits of link building. This may be tough if you don't know the ins and outs of the process.
If you want to enjoy the benefits of link building but don't have the time, resources, or desire to do it yourself, consider partnering with a link-building company like Stellar SEO.
We have a team of link-building experts that can develop a custom link outreach strategy and take care of your on-page SEO, which will help you achieve your goals efficiently and effectively.